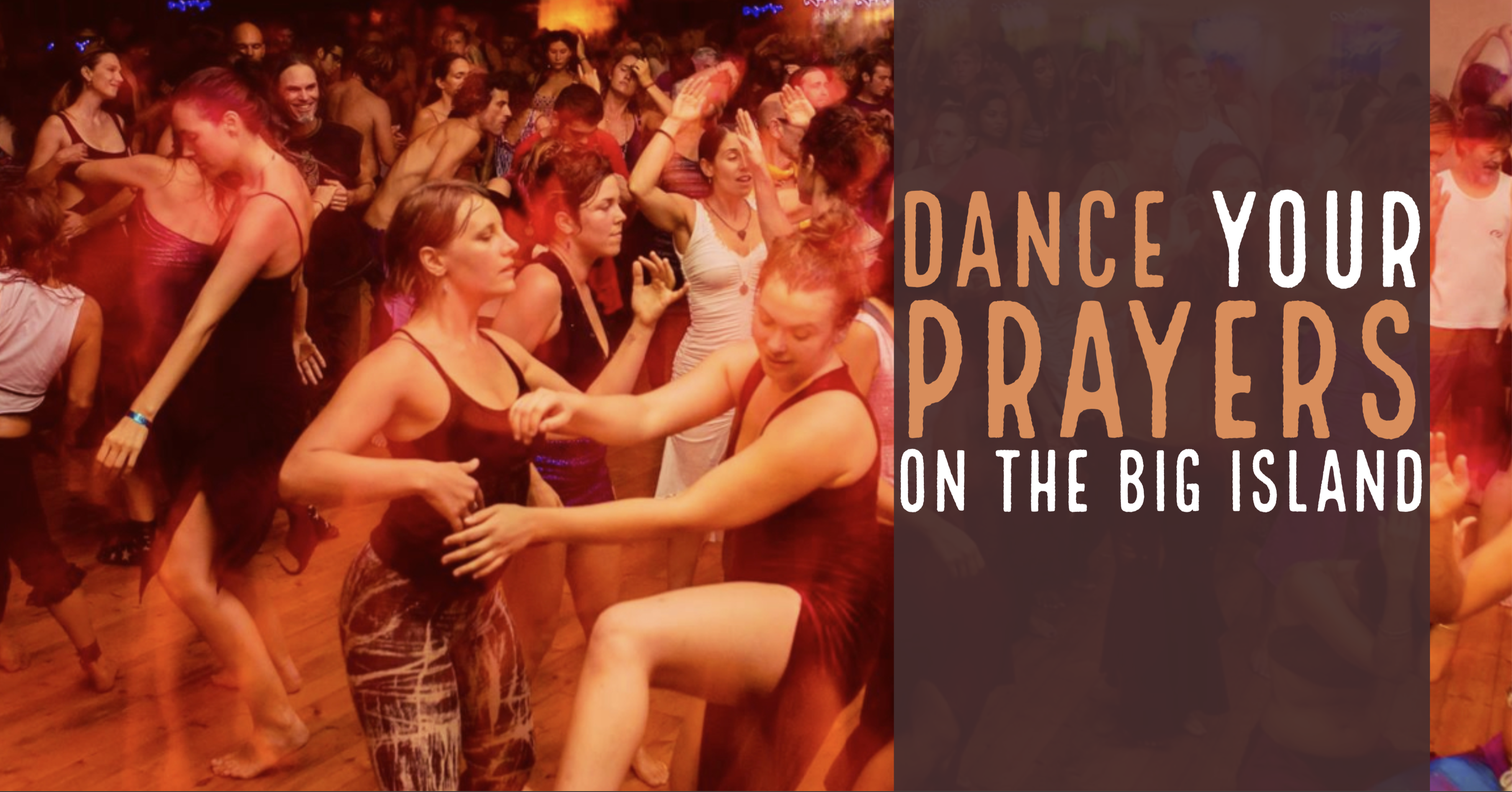 Eastern Hawai'i, known as the Puna district is famous for many things. In recent years, it has become a hub for people interested in ecstatic dance. According to wikipedia, in 2001, Max Fathom founded Ecstatic Dance Community at Kalani Honua in Puna on the Big Island of Hawaii, influenced by Carol Marashi's 1994 Body Choir in Austin, Texas.
Ecstatic Dance is an intentional community dance experience built upon the following guidelines:
Move however you wish.
Avoid *verbal* communication on the dance floor.
No shoes on the dance floor.
Observe respect for self and one another.
Use sensitivity when engaging with others.
Obtain consent before dancing with someone. (Use eye contact.)
Respect the collective space.
No drug and alcohol use.
Ecstatic Dance is what you make of it.
There are opportunities to dance, in Puna, every week!
Here are our favorites:
12-6860 Kalapana-Kapoho Rd, Pahoa, Hawaii 96778
Sunday E-Dance at Kalanimua
Sweat your prayers every week in this long running 'Dance Church'
Admission: $15 Per Adult
Parking: $3
(FREE PARKING — 3 Or More People In The Vehicle)
Please Carpool 🙂
Check their facebook for up to date info!
Kalani Ecstatic Dance is back! This is where the magic all began and we're so excited to be home welcoming many of the original facilitators and artists to rekindle the sacred heart of the experience.
Join the Puna dance 'ohana as we come together to connect in an inspirational, expansive, open, generative, and inclusive way. Ecstatic Dance is the seed of a special community experience that will grow to be even more beautiful as it once again takes root and flourishes.
Ecstatic Dance is a ritual community movement journey devoted to self-expression, community building & empowerment. A safe place to move your body, heart, and soul. There are no expectations on how to dance. Our beautiful wooden dance floor is an open canvas for the art of movement. All ages and backgrounds are welcome.
Join the Puna dance 'ohana as we continue to celebrate our sacred, community dance ritual.
We gather to dance our prayers! To co-create magic and miracles! Please consider your intention for coming to dance and how you are contributing to a safe dance container for all! Mahalo!
The voice of our circle is Kris Williams, and she'll be inviting a steady stream of talent both familiar and new to create invocations for each Sunday's dance.
Please, give the highest respect to our hosts — Kalanimua!
Ecstatic Dance is a ritual community movement space that follows these guidelines and rules:
GUIDELINES:
1. No Talking (Any Sounds That Are Not Words Are Welcome)
2. Sign In
3. Make A Contribution
4. Respect The Space
5. Cultivate Your Awareness Of Yourself Both As An Individual And As A Member Of The Group
RULES:
– Move and dance however you wish.
– No photos or videos.
– No shoes on the dance floor.
– Always be respectful to yourself and one another.
– Use sensitivity when engaging with others.
– Obtain consent with eye contact before dancing with someone.
– Respect the collective space.
– No drugs or alcohol on property.
– No dogs.
Address: 13-3194 Pahoa-Kalapana Rd, Pāhoa, HI 96778
Friday Night 'Bee Dance' at Hawaiian Sanctuary
Bee Dance is that weekly buzz you've been craving! Serving up a divine nectar of dance medicine each Friday. New DJs every week!
$20 Entry ( $15 Kama'aina )
Keiki Friendly, 12 & under free.
Ceremony – A Good Cause – Music – Dancing – Light Show – Fire Performances
Our weekly intention is to bring together the community in unity-hive consciousness by honoring and learning from the Bees. Each dance benefits the Gentle Hive Bee Foundation – who are busy researching local hive health and apiary techniques. We're on a mission to protect the bees so they can protect us!
7PM Bee Ceremony (Elixer Provided)
7:30 Dance Initiation (Opening DJ)
8:30 Dance Journey (Headlining DJ)
BEE DANCE is infinite!
Bee love… Bee safe… Bee dance…
Check their Facebook for up to date info!
---
---
Did you experience the Puna E-dance community? Did I leave anything out?
Leave a comment, subscribe and share!