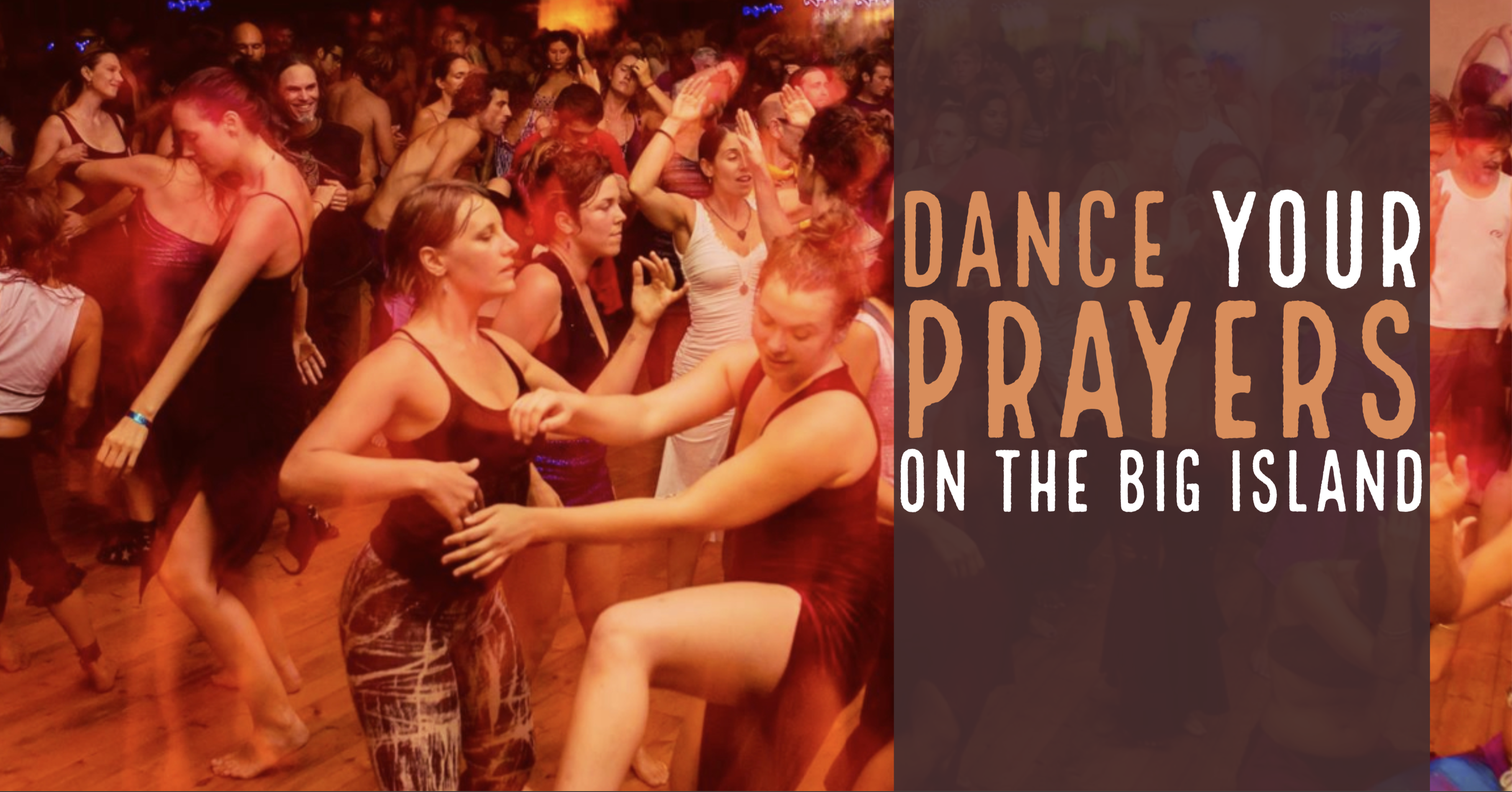 Ecstatic Dance is an intentional community dance experience built upon the following guidelines:
Move however you wish.
Avoid *verbal* communication on the dance floor.
No shoes on the dance floor.
Observe respect for self and one another.
Use sensitivity when engaging with others.
Obtain consent before dancing with someone. (Use eye contact.)
Respect the collective space.
No drug and alcohol use.
Ecstatic Dance is what you make of it.
There are opportunities to dance in Puna, every week!
Here are our favorites:
12-6860 Kalapana-Kapoho Rd, Pahoa, Hawaii 96778
Sunday E-Dance at Kalanimua
Admission: $20 Per Adult $15 after Yoga at 11:11am
Time: 10am-1:30pm
Yoga Opening: 10 am
Cocoa Blessing: 10:50 am
Ecstatic Dj set: 11:11 am
Sound Healing: 1:30 am
Check their facebook for up to date info!
Each Sunday will open with a yoga warm-up led by Megan, followed by the Movement Church's cacao ceremony led by Jami Deva and others, into an opening circle, and then a two-and-a-half-hour Ecstatic Dance, followed by community-led sound healing and a closing circle.
Our Sunday dances have long been the heartbeat of a diverse community. It ignites creativity and connection. It provides a full-body emotional outlet. It keeps us dancing through good times and bad. It's a unique form of worship through self-expression. It's something our community created together. And it's time to dance our prayers together again.
We gather to dance our prayers! To co-create magic and miracles! Please consider your intention for coming to dance and how you are contributing to a safe dance container for all! Mahalo
Ecstatic Dance is a ritual community movement space that follows these guidelines and rules:
GUIDELINES:
1. No Talking (Any Sounds That Are Not Words Are Welcome)
2. Sign In
3. Make A Contribution
4. Respect The Space
5. Cultivate Your Awareness Of Yourself Both As An Individual And As A Member Of The Group
RULES:
– Move and dance however you wish.
– No photos or videos.
– No shoes on the dance floor.
– Always be respectful to yourself and one another.
– Use sensitivity when engaging with others.
– Obtain consent with eye contact before dancing with someone.
– Respect the collective space.
– No drugs or alcohol on property.
– No dogs.
Friday Night 'Bee Dance' at Hawaiian Sanctuary
Address: 13-3194 Pahoa-Kalapana Rd, Pāhoa, HI 96778
Bee Dance is that weekly buzz you've been craving! Serving up a divine nectar of dance medicine each Friday. New DJs every week!
$15 Entry
Keiki Friendly, 12 & under free.
Ceremony – A Good Cause – Music – Dancing – Light Show – Fire Performances
Our weekly intention is to bring together the community in unity-hive consciousness by honoring and learning from the Bees. Each dance benefits the Gentle Hive Bee Foundation – who are busy researching local hive health and apiary techniques. We're on a mission to protect the bees so they can protect us!
6 pm Creative Frequencies
7-10:30 pm Dance Journey with Dj's
BEE DANCE is infinite!
Bee love… Bee safe… Bee dance…
Check their Facebook for up to date info!
12-1092 Kaimu-Makena Homestead Road, Pahoa HI 96778
$15-20 Entry
Come dance with us every Wednesday night at Ecstatic Sundari!
6-6:30 pm Functional Mobility & contact games with Dr. Annabelle, PT
6:30- 8:30 pm Ecstatic Dance with Dj
8:30- 8:50 pm Sound Bath & Closing Circle
Organic Ecstatic: Live Elemental Dance Journey
The newest addition to the Puna dance scene is hosted at Kumukahi Village. Every Thursday in July, check out ORGANIC ECSTATIC, a live music ecstatic dance event featuring some special guests, vendors more!
Kumukahi Village F4RG+6RF, Pāhoa, HI 96778
---
---
Did you experience the Puna E-dance community? Did I leave anything out?
Leave a comment, subscribe and share!