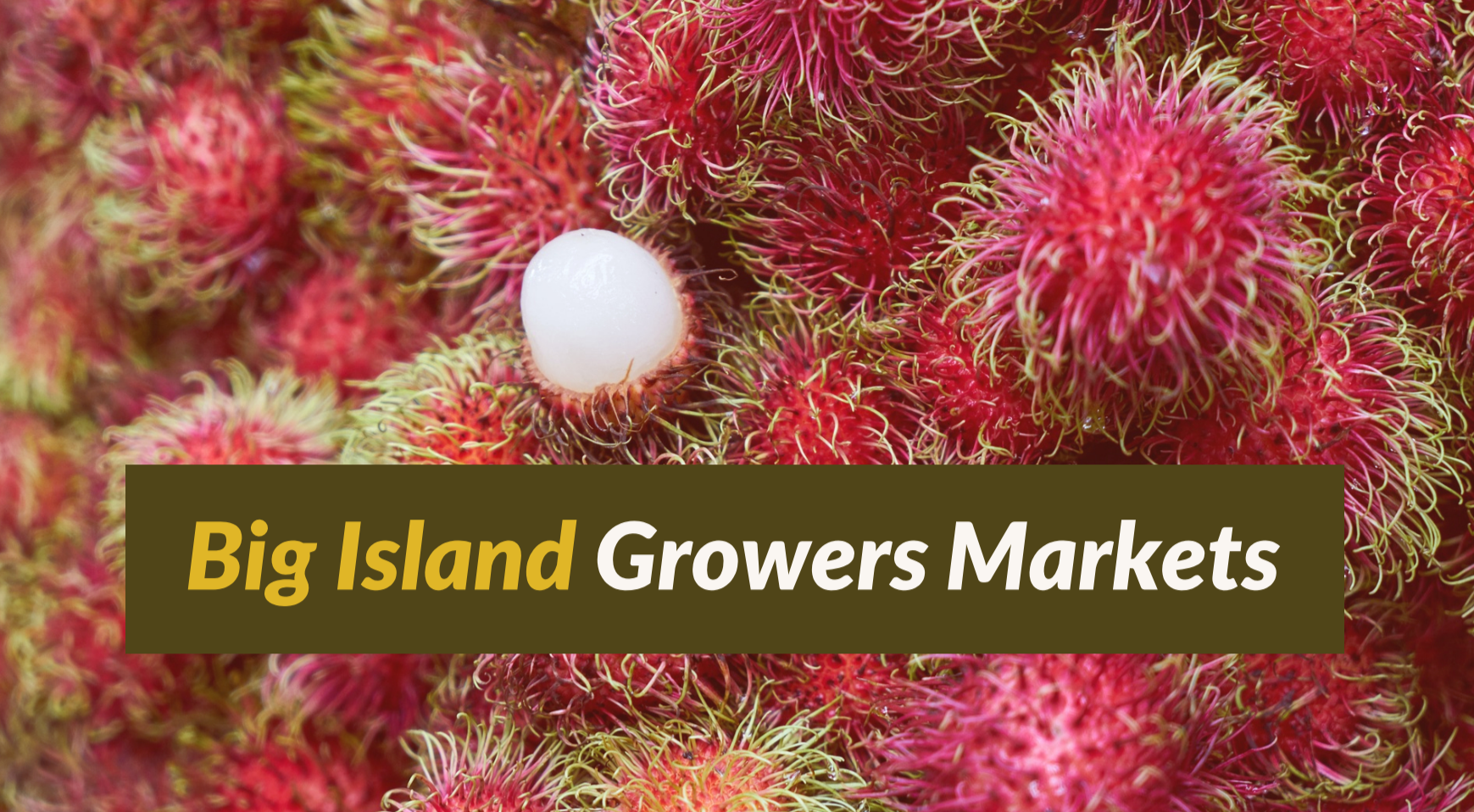 Shopping at the farmer's market is one of the best ways to keep it fresh. The food from the farmer's market is seasonal, delicious, and helps you to reconnect with the natural cycle of nature. Soon you'll discover which season your favorite fruits are ripe. (Durians are abundant in winter!) 

Getting your produce, fruits, and other products from the farmers market has some great perks like:

Keeping the carbon footprint low. Hawaii is the most remote island in the world! Lucky for us it's amazingly fertile, and supporting our local farmers is just the incentive we need to get the island more sustainable.
Rich flavor and higher nutrition. Picking the fruit when it's ripe is on a different level from early picking. Nutrients are higher when the fruit has been allowed to mature naturally.
Buy local! Shopping at the farmers has great benefits for the community. It's also more cost-efficient as the price of overhead and middlemen are bypassed.
Here are the weekly not to be missed markets in Puna:
Address: Kaimu Beach Park, Pahoa, Hawaii 96778, 
Kaimu Farmer's Market is held every Saturday from 8am-12pm. Kaimu is in lower Puna on the Big Island of Hawaii. Free parking, EBT accepted, dog friendly, rainbows guaranteed.
This market is a community favorite, it's so charming with many local artisans sharing their culinary treats and crafts. Arrive early for the best selection.
Uncle Robert's Awa Bar and Farmers Market
**Closed Since Covid**
Wednesday night it's happening in lower Puna. Uncle Roberts has that laid back island style thing going on. Expect lots of prepared food, produce, crafts, art, and live music. Featuring the Kalapana 'Awa Band.
Uncle Roberts also hosts a small Saturday morning market. I recommend getting there early, produce can sell out fast.
12-5038 Kapoho Beach Rd, Pāhoa, HI. Wednesday 5 p.m. -10 p.m. Saturday 8 a.m. -12p.m.

Maku'u Farmer's Market
$2 dollar parking per vehicle
This large open-aired market is just north of Pahoa town. Lots of Produce, local arts, and crafts, clothing, plants, hot food as well as an area with some second-hand merch vendors.
15-2131 Keaau-Pahoa Rd, Pāhoa, HI. Sunday 8a.m. -2 p.m.
The Hilo Farmers Market
Hilo is out of Puna but worth the 30 min drive. Twice-weekly on Wednesday and Saturday 6 a.m. -4 p.m. This market has over 200 vendors selling produce, artisanal foods and crafts. Find it on the corner of Kamehameha Ave & Mamo St, Hilo, Hawaii.
The Localvore Store.
Meet your seasonal fruit fix any day of theweek at the Localvore. This amazing shop has Puna roots, read their story here. Find the best Big Island has to offer like Volcano grown cabbages, Hilo cocoa, mac nuts, coffee, sunscreen and more from the Big Island. Find it on the bayfront at 60 Kamehameha ave Hilo.

Which is your favorite market and why? Leave a comment, subscribe and share!